Take the Guesswork Out of Printing your Artwork
Do you have completed artwork, but you're not sure what to do with it now? You want to start selling, but you've never done this before.
Or maybe you are a local artist who has had their prints done before, and are looking to work with a local print shop to reproduce your artwork.
Let us take the guesswork out as to how to get your artwork printed beautifully.
Our process guarantees that your artwork will be reproduced to the highest quality and on the best materials possible. We specialize in Giclée printing, which means we create prints that match as close as possible to the original.
imageDESIGN's Giclée Printing Process
The first thing we do when we receive an artwork is dependent on size. We either scan it or photograph it. We can scan up to 18×24 inch and anything bigger than that we photograph. Once we have all the scans, we then assemble them all in photoshop and stitch the image back together.


Next is colour matching. In photoshop we adjust the levels of the various colours to get them as close as possible to the original. We go back and forth comparing and adjusting colours from our test prints to the original. For this we need to have the original in front of us to compare to.
What this means for you: You can have peace of mind knowing your prints match your original as much as possible.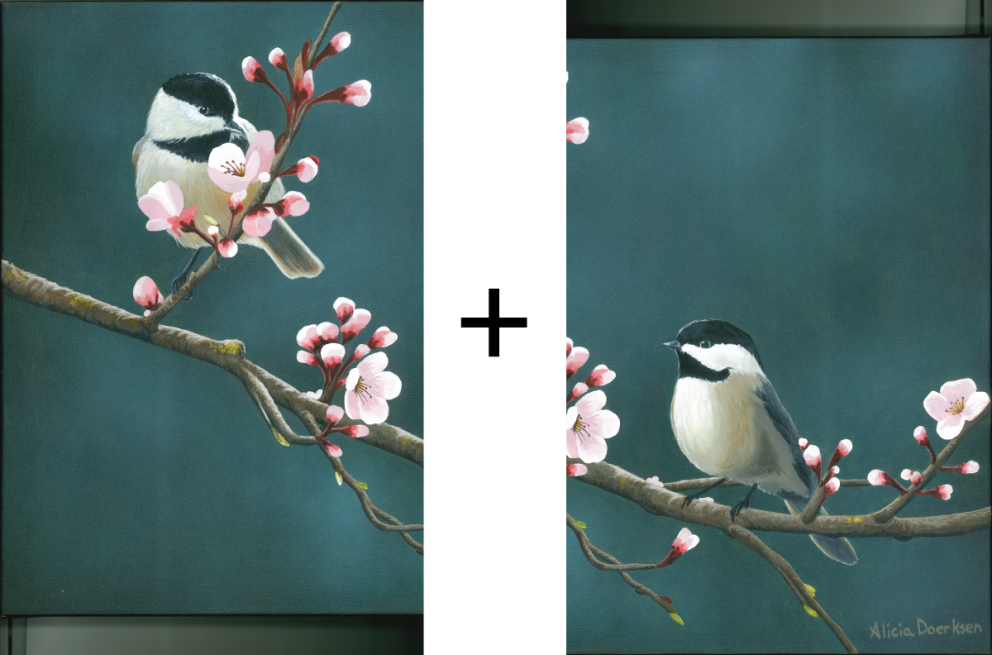 Chickadees and Cherry Blossoms by Alicia Doerksen
Because this was a larger piece, we had to make two scans of the painting. We then take the scans, piece them together, and colour match to the original. Can you see the difference between the scans and the finished product below?
When we have a test print we believe matches the original, we schedule a time for you to come in and take a look. If you are happy with it then we get you to sign saying you approve and we can move forward into doing the final prints. If you think it needs further tweaks we will make the new adjustments and have you come back to proof again. We will make as many adjustments as needed to make it as perfect as possible.
What this means for you: Your artwork will not be printed until you are 100% happy.
We must have copyright permission in order to make the prints for you. As an artist you own the copyright to your works of art, so we have you sign to confirm you are the original artist. In the instance where the person coming in wanting prints is not the original artist, we then require written permission from the artist saying we are allowed to make the prints for this person and we keep a copy of this in our files. If copyright permission is not given then we can not make the prints. This includes random images people find online and want prints of – we can't print those due to copyright infringement.
What this means for you: You as an original artist are protecting yourself and your artwork by using a printer who requires a signature to print.

Deciding on print sizes and quantities will vary from one project to the next. We can print almost any size and also do art cards.  By making your prints a different size, you increase the value of your original piece. Most artists make their prints a different size from the original, if the original is quite large. Prints are usually smaller, and if the original is really small, prints can often be bigger.
Printing Materials
By using only high quality archival papers and inks, your prints will not yellow or fade. We offer two types of fine art paper, a light weight that's most suitable for art cards and a heavy weight for art prints. Both have texture to their surface.
For canvas, we use a matte canvas. For photography we have a satin photo paper and a matte rag paper.
Most artists will make prints on the same medium as the original in order to keep the same "feel" as the original.
Limited Edition Batching vs Open Numbering Batching
Limited edition means you only print a predetermined number of prints and no more. This gives the prints a certain value since there will only be a small amount out in the world.
Open batch means you can keep making prints as long as you want, there is no set number to stop at, they can go on forever.
After the prints are done
We keep all our test prints on file so in the future you can simply call us up to get reprints done. We use the original test print to confirm that the colours are still printing the same on the new test print. If they differ at all we will adjust them to make sure they match once again.
Printing Your Artwork
Do you have artwork you would love to sell or make prints of?
You can get an estimate of the cost before starting by asking for a quote from us.
10 Art Cards with Envelopes Giveaway
Enter your email to be put in the draw to win 10 Art Cards w/ Envelopes created from your original piece of artwork!