Aquatera – Innovation for a More Sustainable Future
By Bruce Douglas
Changing the way we think about waste.
In February 2012, Aquatera launched a project to burn the harmful greenhouse gases produced by decomposing garbage to generate electricity. Jeff Johnston, Aquatera's Solid Waste Manager, says the project aligns with Aquatera's environmental stewardship commitment and will help stabilize user rates. The project will both reduce operational costs and raise new revenues.
Gases such as methane and carbon dioxide are created when waste decomposes. These gases normally escape into the atmosphere causing depletion of the ozone layer, contributing to global warming and skin cancer. Capturing and burning these gases is preferable to letting them escape. Using them to replace carbon fuels, such as coal and oil, further reduces harm to our environment.
Aquatera's project is unique in the way it uses the electricity it produces to power its own operations including the water treatment plant, the wastewater plant and administration. According to Johnston the 'model in theory' shows the possible elimination of Aquatera's million-dollar annual electricity bill. Any excess power will be sold to the ATCO electrical grid. The project will also create carbon credit that Aquatera will sell on the open market to high emitters.
Aquatera currently has two diesel motor-generator (MG) sets that keep the two plants operational during power failures. Redundancy and backup are essential for water treatment and waste water facilities. These units are being replaced by two dual fuel MG sets that will burn collected landfill gas and can also operate on natural gas in case of a shortage of landfill gas.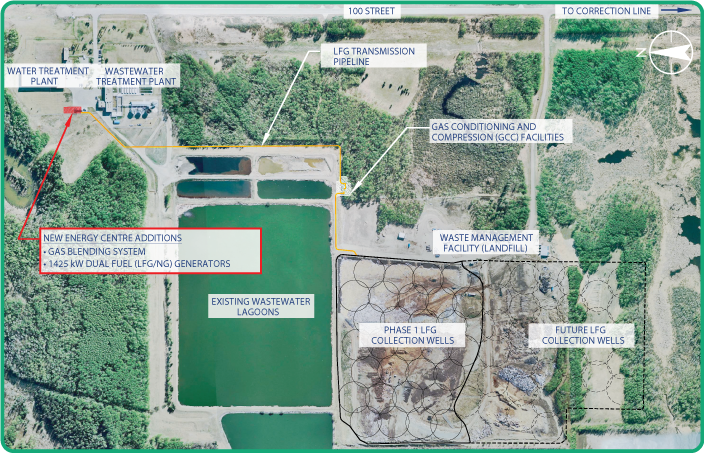 Food scraps, grass clippings and leaves are organic materials that decompose rapidly creating the methane gas required to power the MG sets. Mixing these materials throughout the landfill mass will speed decomposition and quickly make room for more garbage.
Landfills are self-heating, however, this project is the northernmost of its type and there were uncertainties due to the long cold winters. In the past, six wells were drilled for summer flaring. Winter tests on those wells and thermal imaging cameras confirmed the feasibility of the project.
Thermal imaging cameras are also used to detect spot fires in the landfill. These fires can be dangerous considering the presence of explosive gases. According to Tim Conrad, Aquatera's Communication Manager, spot fires are mostly caused by discarded batteries or oily rags.
The initial project involves drilling 30 one-meter diameter vertical wells to a depth of 17 meters in 6 engineered bioreactor landfill cells. The cells are also equipped with a lattice of horizontal collection pipes. Each cell can produce gas for 20 years. There is room for 10 more cells when needed in the future.
There are two other waste treatment processes that actually result in less solid waste, waste that must be stored forever. However, there is considerable resistance to one, incineration, because of questions about emissions. The other process, plasma gasification, is being tested in parts of the world but is yet unproven according to Johnston.
Aquatera's Bioreactor Landfill Gas-to-Energy project is on track to begin operating later in 2014. Capital cost payback is expected within 10 years.
Aquatera Utilities is Grande Prairie's provider of water, wastewater, garbage collection, and recycling services. One of Aquatera's major principles as a company is to have a model environmental stewardship and to always meet and strive to exceed environmental standards. imageDESIGN has worked with Aquatera on dozens of projects over the years and was excited to work on informational materials for the Bioreactor Landfill Gas-to-Energy project.