Card's Board Game Café
By Jody Farrell
Bored? Try Board. As in Games. Popular Card's Café Has Them All!
It's 4 pm on a cold and dreary Sunday afternoon in late November, where generally, in downtown Grande Prairie, there's little to do and no one to be found. But inside the all-ages Card's Café, more than two dozen kids and adults are scattered around the large, warm and brightly-lit room; some chatting, some in serious thought, all caught up in a variety of board games. A group of four young women sit at one of many family-style dining room tables, playing and discussing strategy of the railway-themed, award-winning Ticket to Ride.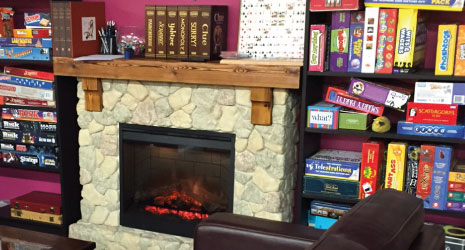 Card's Café, the first of its kind in Grande Prairie, is the months-old, much-anticipated project of owner Caitlin Card, who, having spent many hours in a similar spot while living in Victoria, says today she feels this was perhaps what she was destined to do. The name is Card, after all.
"I spent my whole life playing board games," says Caitlin. "My family always had a table set up, much like in here. The day I was leaving Victoria, I told the owner how much I'd miss his [board game] place, and he said simply: 'You should just open your own.' " For the one-time theatre student who no longer saw acting, with its endless auditions and rejections, as a gratifying lifestyle, introducing a beloved family-inclusive pass-time to a community in need of face-to-face activities seemed a logical, if not inspired, career choice.
The welcoming space includes a working fireplace with mantle and two sets of comfy couches for those seeking more casual gaming, or to relax with one of the café's specialty fair trade coffees, homemade soups and comfort foods. Its 2,000 Facebook followers offer as many thumbs-up comments on its tasty fare as on its wide range – 500 plus and growing – of games.
Four tall bookshelves hold a library of games that include everything from traditional Scrabble and Monopoly to some of the latest, more complex and often quite expensive, board and card games. Cafe staff organize events around explaining and playing these newer games, not only to spare people the tedious task of reading tomes of instructions, but to permit patrons to test play a game they might wish to buy before actually parting with considerable sums of money. Requests for purchases led to Caitlin's stocking items for sale as well.
Apart from the easy-to-learn-but-deep-in-strategy focus of the newer games out of Europe, Caitlin sees aesthetics as just as likely a factor in their surge in popularity. "They look really pretty, and it's fun to move the pieces around," she laughs.
It gives people of all ages something to do together, where the under-18 youth especially, feel welcome and find it fun.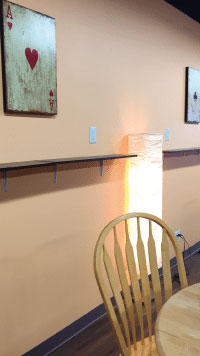 Card's Café offers a wide range of board games for any age or celebration, as well as serving food and craft beers in downtown Grande Prairie. imageDESIGN enjoyed working with them on their pre-launch signage and various printed cards to promote the opening of the first-of-it's-kind Card's Board Game Café.