Creating a 'D.luxe' World
By Erika Sherk Photography by Charlie Healey Photography
Visionary young fashion designer sells and creates clothes with one aim: to make women feel good.
Dayna Nelson takes the word 'resourceful' to a new level.
"I've always been the kind of person who thinks, 'if you can't find it, make it happen," said the 23-year-old.
Case in point: when Nelson couldn't find flattering, high-quality plus-size clothing that fit her properly, she took action. Extreme action. She opened a store.
Called D.Luxe, her shop is located on 100 Avenue, across from the Co-op Marketplace.  D.Luxe opened for business in October 2012.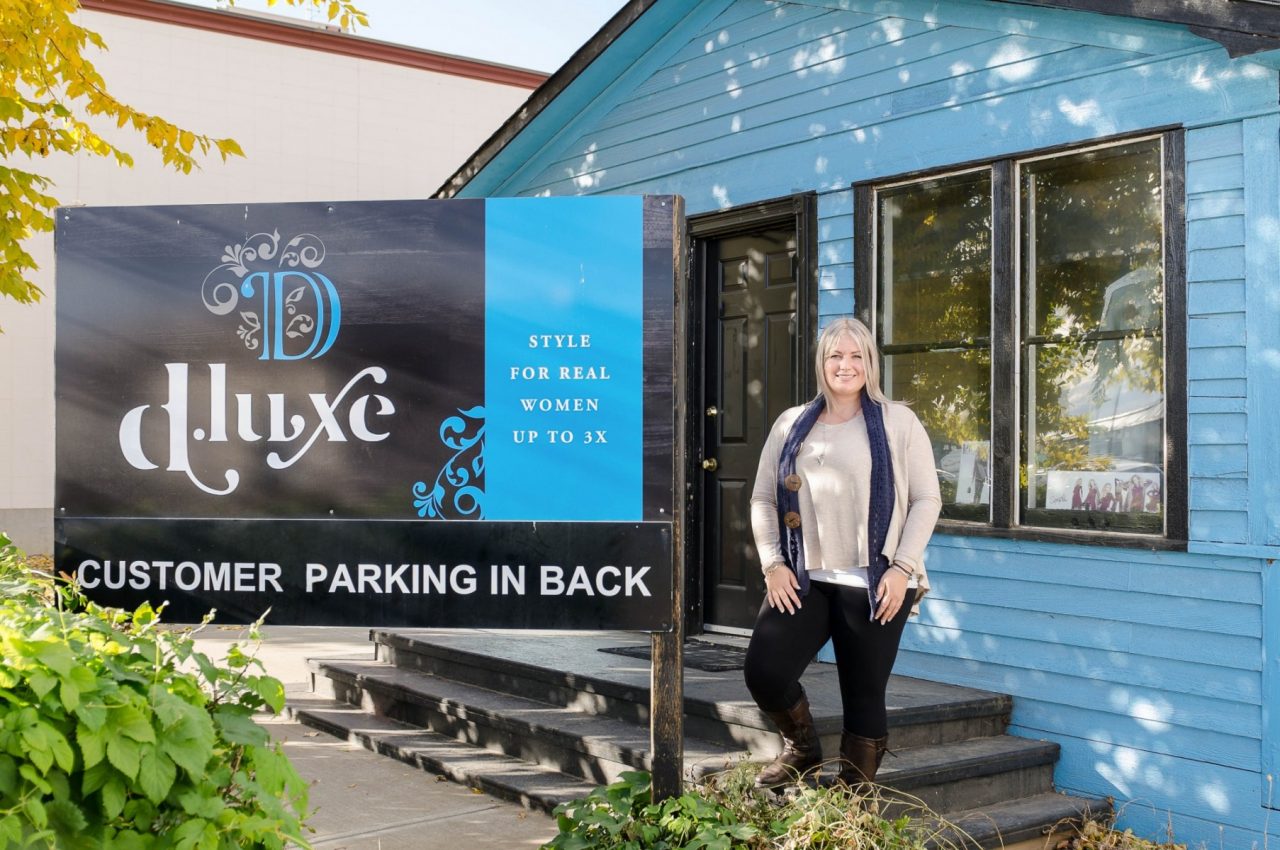 Then, when Nelson still couldn't find the trendy, simple, comfortable clothes she was personally pining for, she started her own fashion line, called D.
None of this surprised her mom, Julie Nelson. "Dayna's been forging her own path since elementary school," says Julie.
This more grown-up path has been on fast-forward though—the store and the fashion line have all happened within a year.  Things moved really fast and there were times when it was "aghgh!" Nelson laughs, throwing her arms up in mock despair.  Despite the ton of work, it's been a passion project. "I love it," Nelson says.
The idea of a plus-size clothing store had been percolating for years.  After managing a beauty supply store for four years and studying business management at the Grande Prairie Regional College, by the time she was 22, Nelson knew that owning a business was in her future. The would-be entrepreneur just didn't expect it to happen so soon.
When the 1920s house that had been Victoria's Attic—an upscale lingerie shop—became available, she thought it was a perfect fit for a women's clothing store, and her business aspirations suddenly became something real. 'Suddenly' being the operative word.
Nelson had to move fast and the opportunity sparked a flurry of business-planning, loan-acquiring, logo-designing and clothes-ordering, among myriad other things. She heard about the location in March 2012 and by August she had quit her job and begun ordering clothes.
Of the brands she carries, Sympli, Neon Buddha and Broken Doll are the best-sellers.
Her own line, D, launches November 7th at the Ladies in Red Fashion Show for the Heart and Stroke Foundation. Nelson collaborates with Calgary designer Leah Bohnet of Broken Doll. Nelson designs and Bohnet creates the clothing, which is all made of bamboo.
"They're really loose and comfortable but still flattering and feminine without feeling like a sack," Nelson says. "It's hard for bigger girls to find clothes like that."
It was "the coolest feeling ever," she says, seeing the first sample piece bearing the stylized 'D' of her label.
The neophyte designer says her mission goes beyond the clothes. "It's hard to feel good about yourself when you don't feel good about how you look."  Customer reaction suggests she is achieving her mission.
"She always makes you feel like it doesn't matter what size you are and you always walk away with tons of beautiful stuff," says Adonia Foster, who regularly makes the trip from Dawson Creek to stock up at Nelson's bright blue store.
Several women from Calgary and Edmonton shop at the store; some Calgarians even phone in their clothes orders. Nelson says she's been approached about a store in Calgary, but wants to be sure she's well established at home first.  Next on that home front is developing an online store, to create easy access to her Canadian-made wares from anywhere.
Photographer: Charlie Healey Photography