Students reach, and work for their dreams at the Edge School
By Erika Sherk Photography by Charlie Healey Photography
Michelle and Mark Bramber want what is best for their oldest son Derian. He loves hockey, and they support that, but are not bent on his pursuit of it to the exclusion of keeping a solid academic record, or developing a social conscience and leadership skills. In 2010, at a presentation following an Edge School summer hockey camp, they found some of these same goals expressed passionately by Brett Stephenson, head of the new-to-Grande Prairie skills academy, and were intrigued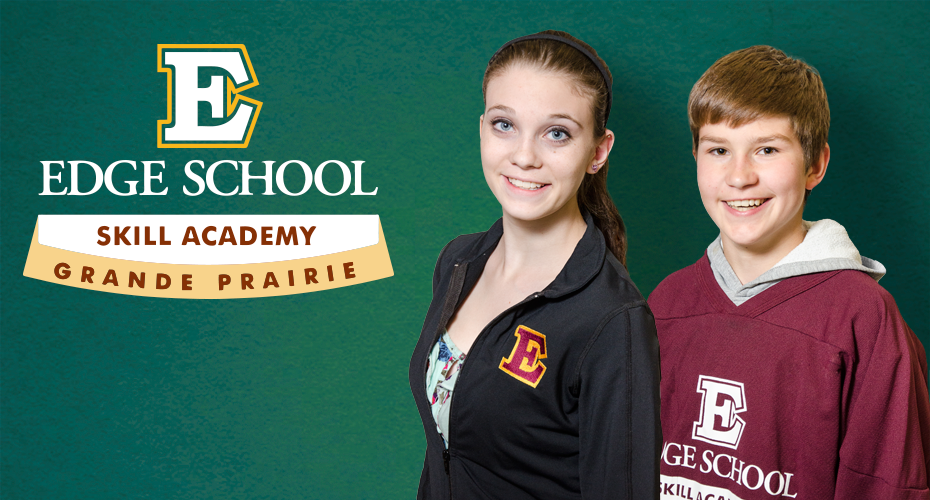 Later, when visiting Stephenson's office in Alexander Forbes Public School, Michelle noticed a sign that read: "Dream with your eyes open," and identified strongly with the philosophy. She and Mark felt the program might engage their son.
"We asked a lot of tough questions,'' Mark says of their meeting with Stephenson. A junior high teacher himself, Mark maintains it is a school's job to "help you get ready for life." He and Michelle took the plunge and enrolled Derian in Grade 7 at Alexander Forbes. He was among the six boys and one girl in Edge's 2010-11 junior high level program.
Altogether, 55 hockey players and 11 dancers from Grade 4 to 9 participated in that inaugural year, with hockey players spending two to three mornings a week skating and learning leadership skills, as well as attending regular school classes. The program currently accepts students from Ecole Parkside and Grande Prairie Composite High School and has 100 hockey players and 24 dancers and will introduce soccer in the 2013-14 school season.
The program's reputation is growing, and the future is looking bright for the skills building academy, Grande Prairie Edge School director and hockey coach Brett Stephenson says.
Parents tell him their child is more determined and focused. The Coca Cola Centre, where his hockey students regularly play, says Edge locker rooms are the cleanest.
"We look at the traits of a leader, and how a role model acts; what a mentor does in certain situations. At the end of the day we want these young people to learn honesty, accountability. Sports are a carrot here. When they love something, the learning process happens a lot quicker. If you forget your hockey jersey, you are not allowed on the ice. They don't get away with saying their parent forgot to put it in the bag.''
"It's all part of the leadership program. It's a 24/7 thing. There can be no coasting."
The Students:
Derian Bramber
Derian is a convincing example of an adolescent on his way to becoming a fine young adult. He readily makes eye contact and gives a solid handshake upon introduction. He's friendly, polite, and refreshingly humble, while still sounding confident and comfortable in his skin.
"I was average when I started at Edge. I wasn't anything special. I had improved a lot over the summer [in the school's hockey camp] and played AA, which is way more competitive.
"Coach Stephenson and goal Coach [Trevor Whitby] both played junior hockey and have a lot of hockey sense. They have fun during practices, but we work hard and always try to get better."
He adds that the team members are very close, and have grown as a unit, watching out for each other along the way.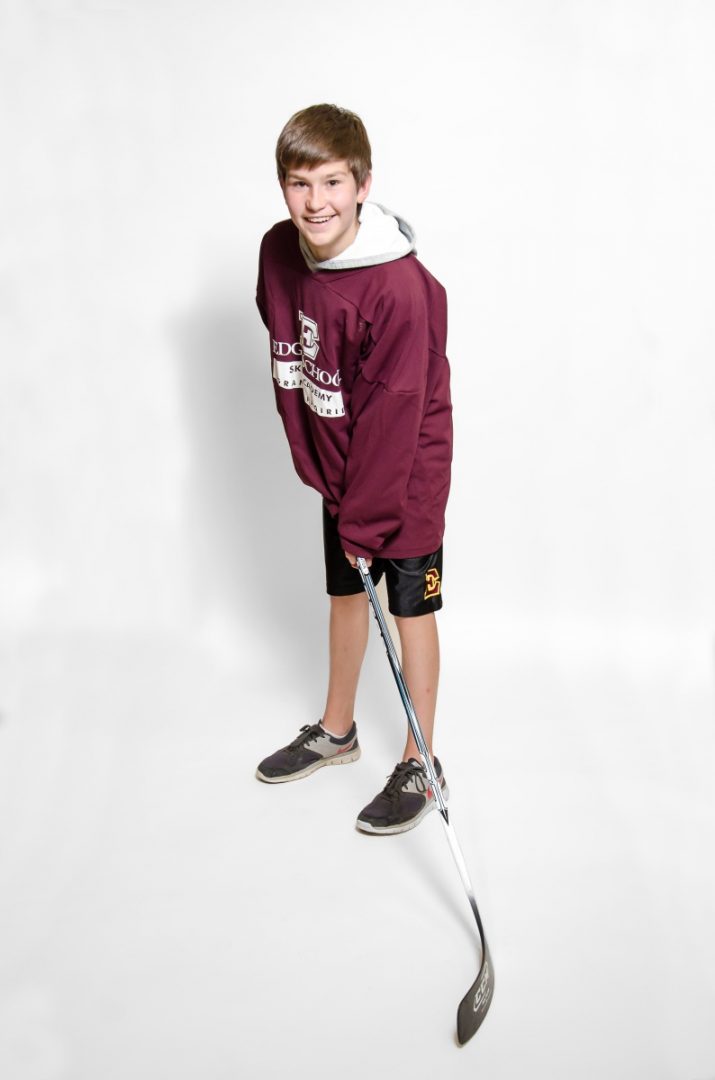 "Character is a huge part of the school. We have our L.E.A.D. compass, where L stands for Leadership; E for Effort; A for Academics, and D for Dignity. We volunteer for stuff, help people out, and be leaders instead of followers. When you go to Edge, you can't not follow L.E.A.D. compass. I think I've learned as much off the ice as on."
A definite highlight was a Grade 9 trip to Northeastern U.S. post secondary institutions including Harvard and Boston College, and a chance to play hockey there. Derian feels if he works hard, he can even see himself getting into one of these Ivy League schools. But there are other opportunities as well.
"If I don't make it, I can be a coach, or assistant coach."
Elyse Roy
Elyse Roy had already been dancing 11 years when she auditioned for entrance into Grande Prairie Edge School's 2012-13 senior high dance program. Associate director Carrie Robins remembers how she showed enjoyment in the process, despite the pressure.
"What I loved was that she did it with a smile on her face," Carrie says of Elyse, who at 16, has just completed her first year with Edge.
Elyse admits to feeling anxious at the time.  "It was a little tough because all my friends from elementary school were at St. Joe's [Catholic High School], but travelling to Edge for dance classes during the school day fast became a highlight.
"I thought it was cool spending an hour everyday dancing instead of doing something I didn't care about. The extra time stretching and getting corrections makes you a better dancer."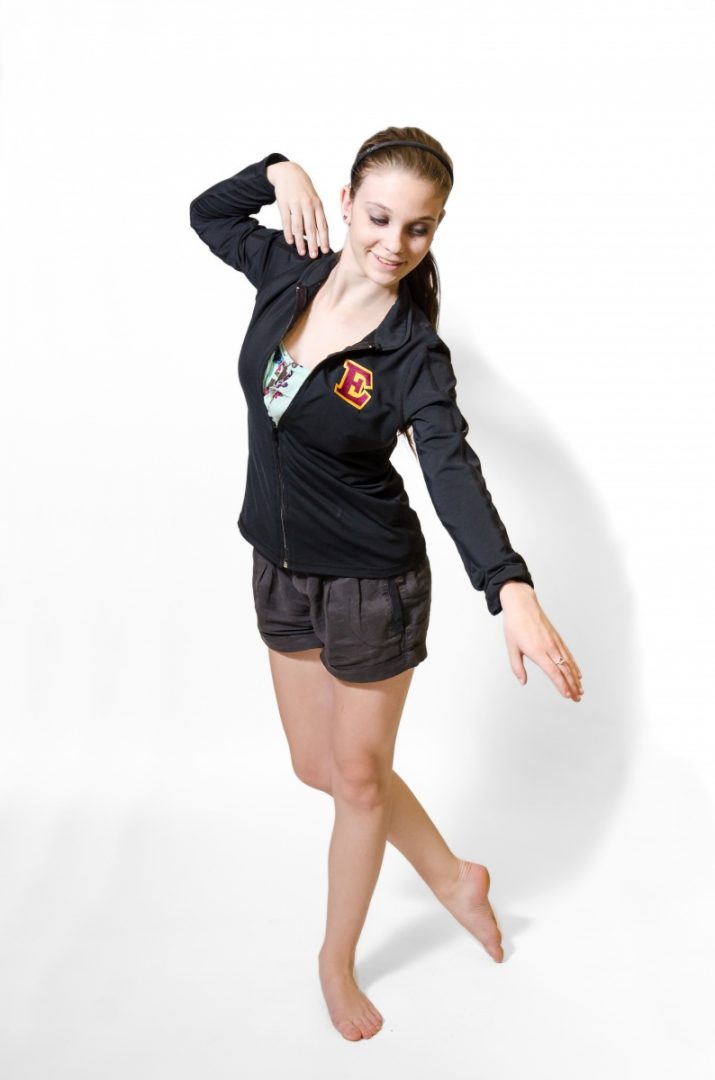 Edge's leadership program also shapes her as a person, Elyse maintains.
"There's the Edge goal: Know the way; go the way and show the way. It means that you know how you are supposed to be and how your behaviour affects others. And if you know that, other people can follow and become better too. Going the way is about following through with what you know is right."
Over the year, Elise was able to define her strengths and goals in dance. She wants to focus on ballet, her "stronger skill set."
Coach Carrie agrees. "She has a natural facility for ballet in the sense of her posture, her alignment of her body and feet. Real classical arm movement."
That's not to say Elyse has not been exposed to other dance options.
"Hip hop, jazz, funk, body rhythm helps her identify what she wants by stretching her comfort zone and gives her more options," Carrie explains. "A little bit of jazz can help her go in and teach a bit of jazz."
Photographer: Charlie Healey Photography