Fan Favourite: Unique Home Concepts
By Erika Sherk Photography by T. Sedore Photography
Local home builder wins Buyers' Choice award third time running.
Local home builder Unique Home Concepts has won quite a few awards in its 10 years. However, the one that makes the staff happiest – the New Home Buyers' Choice – was just awarded to the company for the third time.
That kind of customer feedback means they're doing their job, according to owner Wade Pilat. "That's the one we celebrate, for sure. We're always really excited to receive the Buyers' Choice award."
It's a significant recognition, said Joe Connelly, executive director of the Professional Home Builders Institute. "It's a great demonstration of the quality and customer focus that they put in their daily efforts."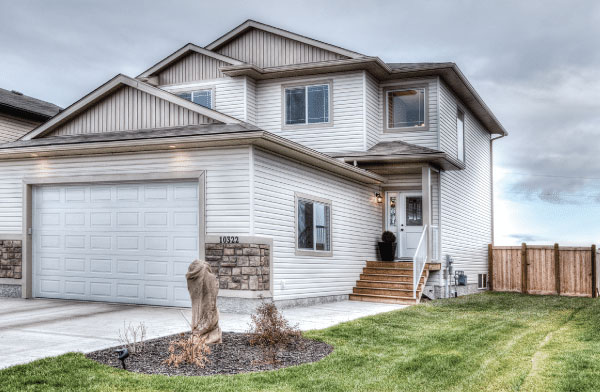 The awards are based on the results of the Institute's work surveying thousands of home buyers each year and then presented by the Grande Prairie chapter of the Canadian Home Builders' Association. "It's very tight, the scoring." said Connelly, "To win it three years running, it's quite an achievement."
Ryan Eshpeter, who purchased a 'Juliana' model from the company in 2013 said he wasn't surprised. "I can see why they won," he said. "Buying a house is stressful, but they make it easy. You don't have to worry about anything with them."
Unique Home Concepts, which just celebrated its 10-year anniversary, has focused on high caliber work since day one, said Pilat.
He was working as a realtor when he decided to build himself a house. One house led to another and in 2004 he left realty to launch Unique Homes with his wife Dalene.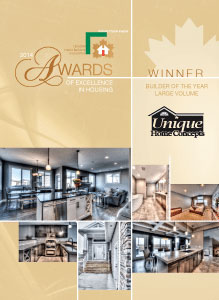 The company has grown in its 10 years. Now it has 14 full-time employees and builds 40-60 homes per year primarily on spec.
Pilat says that its success is thanks to their team's dedication to quality. "You can't build a good home unless you have good trades – from the foundation to the cleaner at the end. I think our biggest asset is our people." It took several years to get the best staff in place. "It was challenging sometimes. It lost us an incredible amount of money until we had the right people in place. We're really fortunate that we have the people there now."
Pilat said that for his company, building high quality homes is a point of pride. They joke that the grocery store is the ultimate test – "you should be able to walk into Safeway and not feel like you have to duck down another aisle [when you see a customer,] because you haven't done something properly."
They won't have to avoid Kris Orbell, who bought a two-storey Kailey model from the company. "It's phenomenal" Orbell said. "You could definitely tell the difference between somebody who puts a lot of pride in their craftsmanship in building their homes versus someone who's just putting up a house to get it on the market and sell it."
"It's a little bit humbling for us, to be honest," said Pilat, of Unique Homes Concept's success. "It's done way better than we ever expected it to do."
A local home building organization, Unique Home Concepts, has proudly won the new Home Buyer's Choice award three years in a row for the outstanding quality of their products. imageDESIGN has worked closely with the team of UHC on various design and print projects for their expanding company.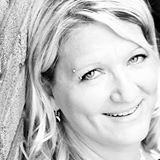 Photographer: T. Sedore Photography
Twenty years ago Tanya Sedore left Grande Prairie to pursue her dream of becoming a skillful photographer. After receiving her diploma she has made leaps and bounds in the Peace Region. Her work has appeared in such magazines as Homes & Land, The Ultimate Bridal Guide, Maternity & Beyond, Womanition, LouLou, Profiles of Success and hangs in various locations in Western Canada. For more information, visit Tanya's website at www.tsedore.com.