The Future of Our City is in Good Hands
By Katherine Weber Photography by Beauchamp Photography
Youth Council and opportunities for youth creates conversation, change and community.
Finding a safe and welcoming place to be your true self can be a daunting task for young people today.  Not only are there many opportunities for youth in our city to find support and engagement, but also there are many ways youth can become empowered for change in our community. Our city has such a place in the Youth Council of Grande Prairie, who supports young people ages 14-21 in getting their voices heard. The mission of this group, as stated by member Brooklyn Spink, is to "To make a difference in our community from the perspective of teenagers, for teenagers." They aim to be a safe space for teens in the community of Grande Prairie, but also connect our young people with ways in which they can effect positive change.  Cara Jones, the Youth Services Supervisor for the City of Grande Prairie, facilitates the group. "[The] Youth Council is becoming well known for their consulting role," says Jones. The group has consulted with the City on issues ranging from plans for Bear Creek Outdoor Pool to Dave Barr Arena programming. Any and every youth who feels passionate about this group's mandate is welcome and encouraged to join. One member described the type of young person who should consider becoming involved with the Youth Council this way: "Anyone who is striving to make a difference or sees an issue they feel they should fight for."
The most recent project from the Youth Council, a documentary called "From Rednecks to Rainbows", focuses on educating the community about LGBTQ+ rights and government legislation regarding these rights in our province. This project began close to two years ago and is the heart-project of Youth Council member Truelee Love. This topic was something that struck to the heart of Director Truelee who noted "every time Bill 10 came up, people were forgetting to ask us what our perspective was on this issue. These are our lives and our issues. Ask us." Made with the generous support of local business C.I.A Solutions, this documentary will effectively showcase what the youth of our city are capable of using professional equipment and professional skills.  Love also stated that the aim of the documentary was not to ruffle feathers but to "bring another perspective to the table." The documentary will screen on May 4, 2017, at the Grande Prairie Live Theatre. Ticket sales from this event will all go to creating a post-secondary scholarship fund for a local LGBTQ+ youth in our community.
Yet another outstanding opportunity for young people to gain experience and empower themselves is the World of Choices Junior Achievement event happening on March 30, 2017 at Evergreen Park. As stated from their website they are "the country's leading organization to offer free programming to student's grades 10-12 on financial literacy, work readiness and entrepreneurship".
Around 190 students from across the Peace Country will have the opportunity to attend the World of Choices event this year and network with potential employers, mentors and colleagues. This experience will ensure that our young leaders of tomorrow have exposure and support to continue discovering potential career options for their future. It is through these events that our city will harness the energy of our young population to continue driving change and bringing the community together.  The future of our city looks very bright and is in very capable hands thanks to opportunities for youth in our community.
Members of the imageDESIGN team will be joining other business' at the World of Choices event at Evergreen Park March 30, 2017.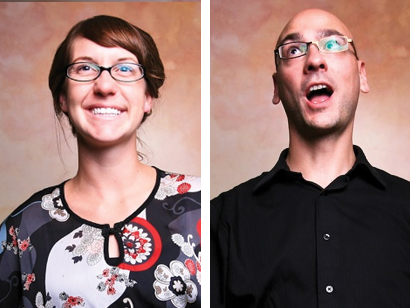 Photographer: Beauchamp Photography
Beauchamp Photography is a husband and wife team—Chris and Laura Beauchamp—based out of Grande Prairie, Alberta. They specialize in documentary, photojournalistic images and photograph weddings, families, commercial clients and editorial work.