HEAT Lubricants – An Inventive Approach
By Deb Guerette
A Grande Prairie man's solution-focus drove him to develop a new de-icer/lubrication product
If Dustin Falconer went back to work in the oil patch all winter, there would definitely be no more messing around with frozen pipes and metal things for him. When he was working in the oil field a common approach to thawing frozen pipe joints or metal mechanisms involved brushing on combinations of fuels and oils, such as diesel, methanol, airline de-icer, or automatic transmission fluid.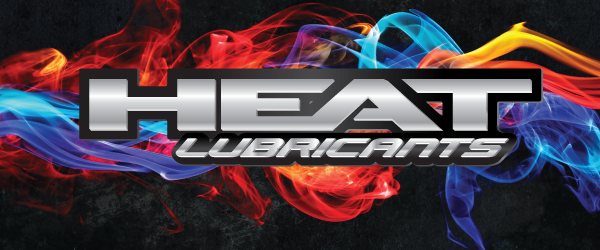 "Working with coil tubing overhead… everything is dripping down on you, running down the sleeves of your coveralls," Falconer said. He just couldn't help thinking there must be a better way. "I knew if someone could get a product in a package – we'd be using it instead."
Falconer has a Bachelor of Science degree, but says it is his early work experience that shaped a solution-focused approach he enjoys applying to work and life.
I learned to problem solve out of college," he said, referring to time he spent working as an airplane mechanic in Uranium City. "We had to be resourceful and inventive just to keep equipment going. Working with a bunch of Saskatchewan farm boys out there taught me how to do things."
Falconer moved to Grande Prairie with his wife Nancy in 2000. Now operating a business in the construction industry as their main livelihood, the couple and their four children are starting to see demand for the product Dustin created warm up. Nancy remembers samples of different compounds that used to share space in her freezer when Dustin was developing the formula he now calls HEAT XTreme Winter De-Ice/Lubricant. The product is effective at thawing ice and lubricating, and is environmentally friendly, Falconer says.
With his initial formula in hand Falconer approached a manufacturing firm in 2007. After some further scientific development through the manufacturer, he had a product in a package – a CO2 propelled aerosol can – in 2008. Selling the product was different venture, but nothing Falconer wasn't ready to apply his can-do attitude to. Drew Brocklesby, Northern Metallic Branch Manager for Grande Prairie and Clairmont, says when Falconer first approached him to stock the product, he challenged him to sell it for them.
"That is what I really admire about Dustin in particular," said Brocklesby, "he went and sold it to everyone in town and so all of a sudden I had a whole bunch of calls from customers saying 'hey I love this stuff, do you stock it?' That's when the relationship really started, and it's just grown, and grown and grown since then." HEAT XTreme Winter De-Ice/Lubricant has now displaced a couple of other products Northern Metallic used to stock, and sales have grown substantially, particularly in the past two years, he said.

"He's got a wonderful product and customers just love it."
"I sell it by the skid load usually out of here so sometimes Dustin can't keep up," said Brocklesby, who is also a first-hand fan of the product, keeping a can in his truck all winter for frozen locks or tailgate hinges or handles.
Along with keeping up with demand for HEAT XTreme Winter De-Ice/Lubricant, Falconer has an all-purpose metal lubricant already on the market, and a new formula targeted for use with ratcheting load binders—or 'boomers'—in the works for release this year. With a new web site, heatlubricants.com, for the products now live as well, Falconer has his eye on breaking into markets in eastern Canada, the US and Mexico. He hopes to position HEAT XTreme Boomer De-Ice Lubricant alongside the trucking industry's growing demand for ratcheting load binders.
"It's been a lot of hard work, said Falconer, "but with the results we are having now, we want to take it to the next level."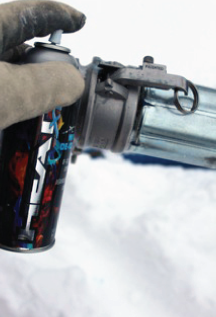 HEAT Lubricants is a Grande Prairie company offering a line of lubricants that have been specifically formulated to work in northern climates and harsh winter conditions. When HEAT Lubricant owner, Dustin Falconer, was looking for a sleek re-brand for his company, he went to imageDESIGN.