Home Sweet Stonebuilt
By Jody Farrell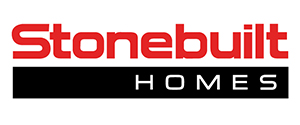 How Grande Prairie's Stonebuilt Homes' keen attention to a young couple's dream wins them client loyalty and a prestigious award for design.
Nathan and Megan set out to build the house of their dreams.
The Coffeys wanted a unique home – the kind that reflected their love of mountains and skiing. Nathan, an engineer, had designed a house to resemble the chalets you might find in resorts throughout the Rockies: those open, high-ceilinged, wide-windowed retreat homes that, however popular, are a rarity here in Grande Prairie.
After no small effort, he and his wife Megan found an architect whose drawings allowed for all that they had in mind, including their vision of an easy-to-maintain landscape.
"We looked for a year and a half for a parcel of property," Megan explains. An online ad for The Ranch, a new subdivision located west of Grande Prairie's Wapiti Ski Club finally caught Nathan's attention. The property, with its mature trees, gave them both the privacy and mountain feel they were looking for.
The Coffeys choose Stonebuilt homes as their builder.
The Coffeys met with a few builders, but settled on Devin Kimble, who, with wife Carol Forster own Stonebuilt Homes, and are part-owners of The Ranch. Their quote was the most concise, the Coffeys say.
"Others didn't give us the warm fuzzy feeling," Nathan explains.
"Devin knew what we were talking about," Megan adds. "He listened, and could elaborate on things. We knew we were in safe hands." He and his team "came with the heart and desire to make our dreams come true."
Kimble agrees that the solid relationship stems from the Stonebuilt team's quality work and its effort to "get to know our customers, and help them achieve what they want in a house." When possible, he offers alternatives.
"The Coffeys came to us with the intent to do a timber frame. Their design had a [traditional cathedral] drywall ceiling to which timbers would be added just for esthetics."
Kimble suggested that a genuine timber frame construction replace the gyprock/drywall ceiling with tongue-in-groove wood decking and trusses that extend from end to end, continuing through the outside walls at the front and back of the house. "We refined it a little bit, moved some wood around, thereby making the ceiling both more structural and beautiful."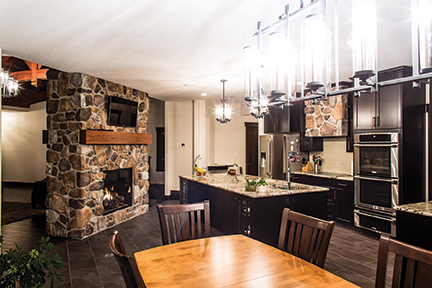 The oversized door, staircase and railings add to the airy, timber frame style.
The house also features an eight-foot custom-ordered door with wrought ironwork encased in glass. It was chosen over the original door to complement the house's oversized custom-made moldings and its now wider metal-railing staircase to the basement.
The main floor's magnificent double-sided, floor-to-ceiling stone fireplace is gas-lit, while a similar stone structure in the basement is wood-burning. Both are integrated into the house's heating system.
Nathan is especially proud of the 'cross-cut tree stump' tiles in the basement that mimic the hand scraped, dark-stained wood floors upstairs.
Megan and he credit GP Flooring's "amazing service and wealth of information. When we went there, we knew nothing," Megan says. "We are happy with our choices."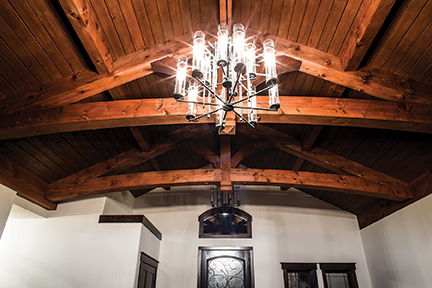 GP Flooring installer Sam Tissington, who went out of his way to locate certain hard-to-get tiles, was a godsend, they say.
The extensive windows give way to a large back-facing deck upstairs, and the walkout basement looks onto a stand of pine, fir, and poplar trees, affording privacy on all sides. The Coffeys' landscape will feature a pond and intermittent patches of lawn, reducing maintenance while highlighting the many resident wildflowers and berries.
And the winner is…
In just over a year, the house was completed, and Kimble and his Stonebuilt Homes team had won both the Coffey's unfailing devotion and respect, and the prestigious Canadian Home Builders' Association Grande Prairie Region Family Estate Home Emerald Award of Excellence.
"It's the skill set of all the guys that worked for Devin," Megan says of their own decision to turn to Stonebuilt Homes should they wish to build again down the road. "Nathan already has other visions, and would definitely go to them."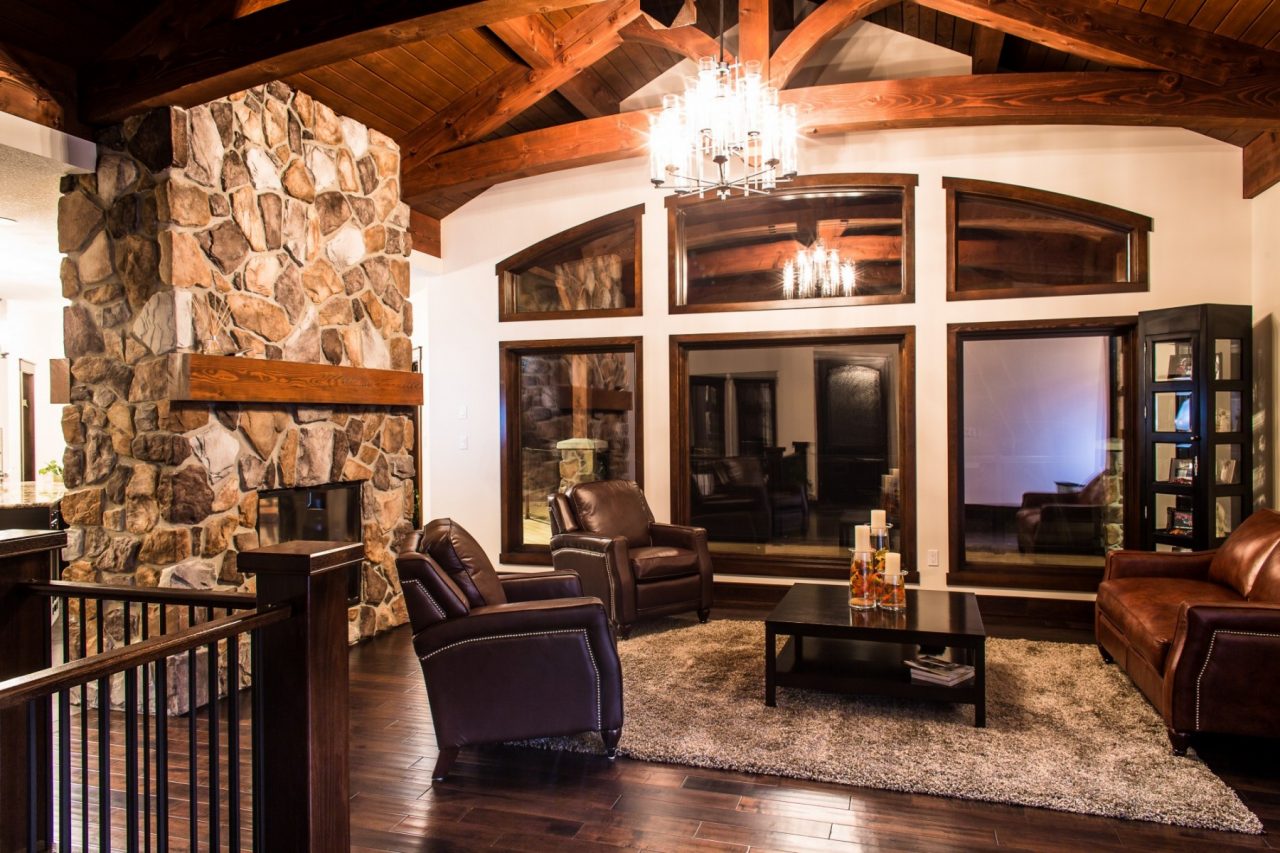 Kimble sees a trend upward in the scale of houses in Grande Prairie. Another of Stonebuilt Homes' designs won the CHBA Estate Family Home Ruby Award of Excellence.
"We have a bunch of interesting projects," Kimble says of future plans. He is particularly excited about the growing desire for hydronic heating and cooling of houses, a more efficient system than traditional forced air furnaces and simple boiler designs. Continuing to work alongside their clients while introducing these updated features are always a thrill, he says.