Anatolia: Impressions of Istanbul
By Marilyn Gourlay
An Artist's Tour of Turkey
Joanna Moen, Editor of Art of the Peace
In the fall of 2012, David Biltek of V the Vacation Store, organized a women's only art tour to Turkey. Subsequently, 13 participants travelled there this spring. Peace Region artist Marilyn Gourlay was invited to share portions of her travel journals for the enjoyment of Art of the Peace magazine readers. David Biltek had earlier established a professional relationship with Meli, a native art-inspired travel guide in Istanbul. Hence, with Meli's welcome guidance, Marilyn was able to deeply experience the art and culture of the region. Armchair travellers, we hope you will enjoy Marilyn's snapshots of life and art in Turkey. 
The White and Open Road: A Mother's Day in Istanbul
Marilyn Gourlay, Peace Country Artist
Meli loved the word Anatolia. "I love the word," she told us. "It means beautiful Ana Mother; she who is dolma-stuffed, with the features of a good mother and with a good working heart."
On Mother's Day in May, we met our guide Meli, teacher of art history and magic mirror of all that we will experience in our two-week tour through Turkey. We are staying at the And Hotel, with an excellent view of the Golden Horn, Bosporus, Hagia Sophia, and Blue Mosque, from which we can hear the call to prayer. To me it is haunting. I have never entered a mosque.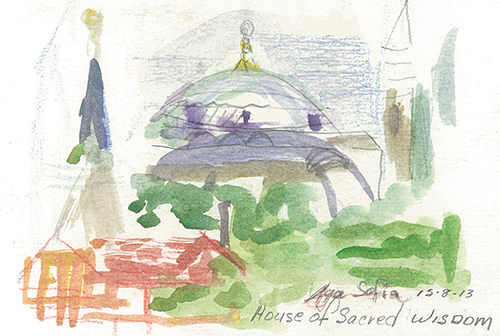 Once there, all 13 of us on the tour drape ourselves in shawls purchased by Meli's daughter, a gift of our Grande Prairie-based travel agent, David.
We remove our shoes, and Meli leads us to a far corner, where we sit on the floor and hear her story of the architectural history of the Blue Mosque; this beautiful place of worship.
A polite gentleman in a grey suit is drawn to our group. He smiles and nods approvingly at Meli's descriptions. He introduces himself as a retired singer who now calls the prayer. At Meli's request he sings the Morning Prayer with heartfelt presence. The memory of his resonant song amazes me.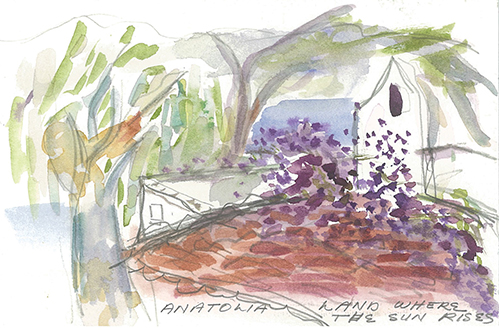 Istanbul, the wise old lady with young beauty, sits on two continents: Asia and Europe. This city of 17 million was, at different times, the capital to three empires:
The Byzantine, the Roman, and the Ottoman. Religion and art are important in this culture, and never more so in a place so rich in both. The oral and traditional stories, told through illustrations, frescoes, tapestries, and icons, both pass along the word of God/Allah, as they offer optimism and hope. These also reflect subtle shifts in the needs of the people over the thousands of years that each period encompassed.
On the second day, we visited the 12th Century Chora Christian Church, later used as a mosque. Its frescoes and mosaics are the best examples of the Christian art of the Byzantine era. Chora, Meli explained, means 'in the womb of Mother Ana.'
Meli stated a memorable quote which stays with me still: "Don't tell me how much you know. Tell me how much you have travelled. May your road be white and open."
Thank you Meli. May your road too, be white and open.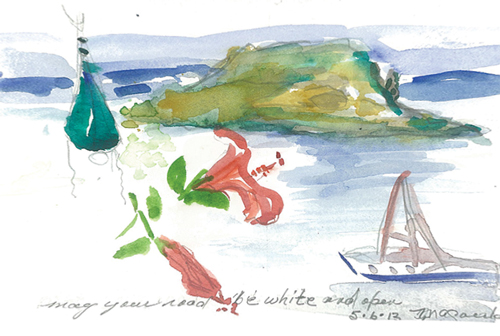 Art of the Peace Magazine is a bi-annual publication which showcases the talents of the Peace Region art community and local arts and cultural events. Beginning in the Fall 2013 issue with this article, the magazine features travel journals by local artists, logging their experiences and inspirations along their journey. imageDESIGN has been designing Art of the Peace Magazine since their very first issue in 2003.