Local Energy Keeps Visiting Director Busy
By Deb Guerette
Taking a break from filmmaking didn't last very long for feature film director Gordie Haakstad and preparing new work for the Reel Shorts Film Festival—in Grande Prairie for its eighth year in 2014, May 7 through 11—is just one of the ways he found to continue his career up north.
Grande Prairie born, Haakstad was raised in Los Angeles, California, and worked there as well as in Austin, Texas. He returned to Grande Prairie in January 2013 to visit relatives and unwind after an intense five-year project on the first feature film he directed, Abel's Field. Picked up by Sony Pictures in 2012, the film was released on DVD by the entertainment giant in early 2013.
Discovering an enthusiastic arts and education community shortly after his arrival in Grande Prairie made it easy for Haakstad to move from break to busy again. He found himself doing some of the work he loves the most: teaching and some directing and production.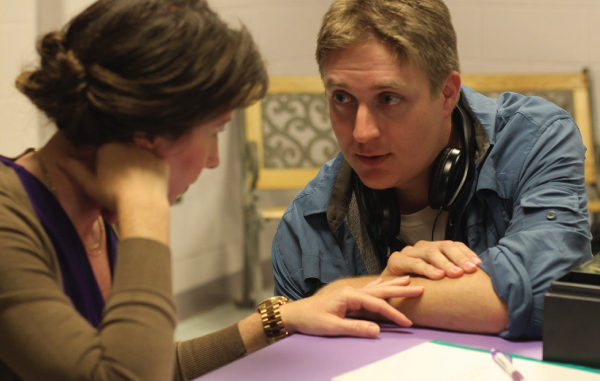 Haakstad was invited to hold an Editing for Filmmaking workshop and to judge the youth screenwriting competition at the Reel Shorts Film Festival in May 2013. He felt that it was a great introduction to the community here.
"It's a very vibrant, enthusiastic film community. They might not have the same (professional) experience, but just the energy that goes around that community here is very appealing," said Haakstad.
A graduate of the University of Southern California's School of Cinema and Television, Haakstad taught at the New York Film Academy campus in Los Angeles for eight years. He put that background into action in Grande Prairie last August, offering a multi-day workshop Emotion on Film: The Director/Actor Collaboration. In September 2013, he began instructing an Introduction to Video Production course at the Grande Prairie Regional College, and was a Visitor in the Arts guest lecturer again in January 2014.
In December 2013, he produced and directed a short film shot with local crew and actors, all in Grande Prairie. Directing a series of commercials and short webisodes also filmed locally has been a more recent priority project, and some of that work will premiere at the Reel Shorts Film Festival this year.
"(The new short film) isn't going to make this year's film festival because I've been too busy with the commercials. I was kind of bummed, but this one pays, and that one didn't," Haakstad said, mulling for a moment before deciding it too soon to hint about what the short film is about.
A judge for the Youth Screenplay Competition again at this year's Reel Shorts Film Festival, Haakstad will also direct a table read of the winning script on Saturday, May 10. He is also one of three judges who will select the Festival's best films in live action short, animated short, and documentary short categories.
A couple of original script ideas which he intended to work on during his time in Grande Prairie have yet to progress as far as he would have liked, due to all the other work, but he admits he needs to take the same advice he provides to students: to set aside time every day to write no matter what.
Set on Filmmaking
There is no degree or program qualification that will ensure someone a career in filmmaking, Haakstad said, but it's a journey he's still enthused and determined to continue. Getting into the film school he wanted to attend was a step in his life that seemed to be approached with that same motivation in mind. The USC Cinema and Television program is very competitive, only accepts 50 students a year, a fact which Haakstad admitted modestly.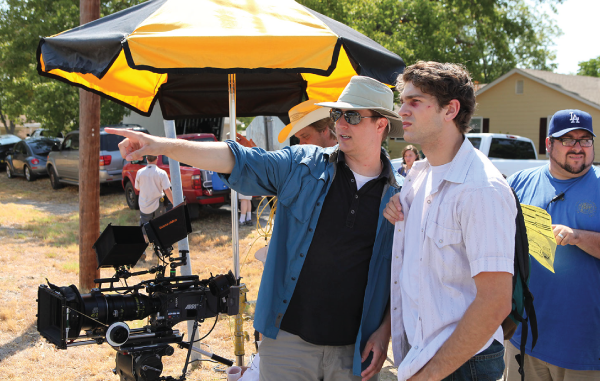 "I had pretty good grades (in high school), was valedictorian, stuff like that," he said, when prodded a little further.
"I did work hard on my application… and, I had worked very hard in high school to do a lot of things: stage crew for theatre, but also painting and drawing on my own. I am also heavy into math and science, so I tried to just be as well-rounded as I could coming out of high school.
"Funny thing though, you never know who gets in. I had friends who were equally talented," he adds.
Haakstad knew he wanted to work in filmmaking when he was 12-years old, after watching the movie Willow. While his initial technical focus has shifted, he remains as determined as ever on a well-rounded career in the industry.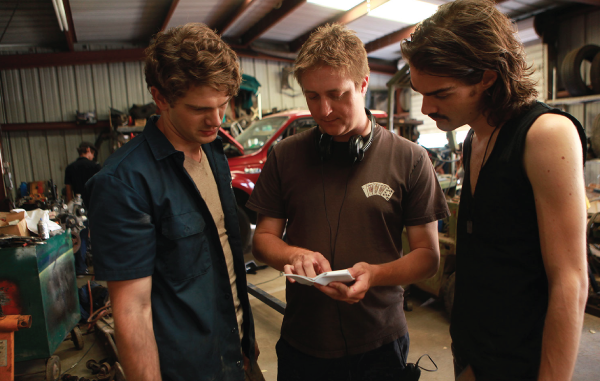 "I saw Willow, and I knew I wanted to do visual effects. I saw that, and then I saw Jurassic Park, and I was like, yeah, that's what I want to do. So when I applied to film school, I applied with the idea that I wanted to do visual effects.  But, then when I got to film school… a week into my first class, I realized I like visual effects, but I really like cinematography, which is the photographing, but also the lighting.
"That was a lot of fun. You got to play with cool toys, and you were on set. With visual effects, you weren't on set as much.
"And the more I went and the more I talked to people, I wanted to direct; but it wasn't a hard and fast thing. Basically, I knew I couldn't direct at that time. I was a 19-year-old kid, what am I going to tell someone?
"So, I think my end goal was to be a director, but at that time I wanted to develop two skill sets; one is visual story-telling, which is best described as cinematography and the other is the unique art form of film editing, which is building the story after you shoot it. Or, before you shoot it, planning out what you need to shoot to build the story after," said Haakstad. He graduated from the USC Cinema and Television program in 2002 with honours, specializing in cinematography and editing.
A Tough Business
The opportunity to direct Abel's Field in 2007 didn't come overnight, and teaching while living in L.A. kept him connected to the industry, which Haadstak mentioned has a tough attrition rate.
"You are basically going for a long time before making money in the industry. There are a lot of students (from film school) that no longer do work related to film because it's a tough road," said Haakstad, who also puts his math and science background to use doing freelance computer programming work at times.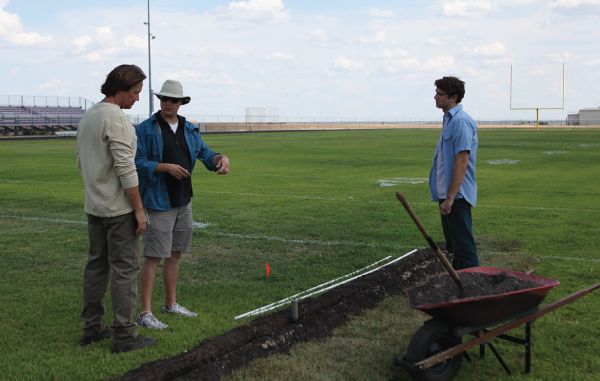 "That helps pay bills too. I don't want to program for the rest of my life, but it's something I can do on my own time as long as I meet certain deadlines," he said.
Looking ahead, Haakstad is excited about a number of new ventures, both commercial projects and others for fun. Finding an agent in Toronto or Vancouver is one of the steps he's thinking of this year to more actively seek new opportunities.
"If I could land a TV show as a next project; that would be great. Something like Murdoch Mysteries. It's a great show and something I could do."
Directing and doing post production editing and visual effects for the series of commercials and webisodes he just finished is the kind of work he hopes there is more opportunity for in Grande Prairie too.
Keeping the Mix Fresh and Fun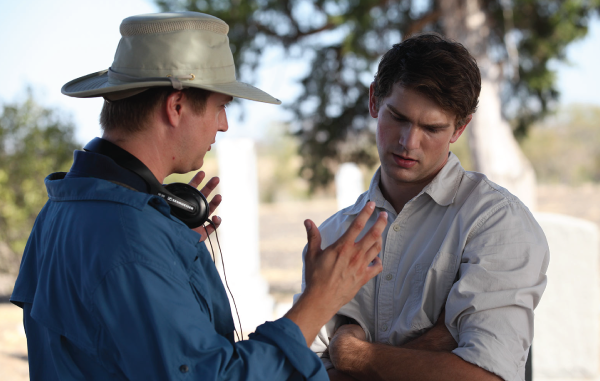 At the moment, Haakstad's own script ideas run the gamut of flat-out comedy, emotional drama, and western murder mystery.
"I could probably put a little more of my voice into one of those, where another one would be a little more—hey, this script could probably sell or has a chance to be marketable."
While many projects in a variety of genres have strong appeal for Haakstad, so does continuing to teach.
"I am reminded every time I am on-set, even though I am exhausted completely, emotionally, physically; I am reminded how much I love being on set." But "until I am old and gray," the 34-year-old adds, "I hope to keep up the teaching part of what I am doing too."
"When you teach concepts, talking about the art of editing or lighting, that's exciting—it always changes—impressions change, students come up with new fresh ideas, and that is exciting. And if I love something that much, I think it comes across, so hopefully I can inspire or get them excited about it too," he said.
Community Ties
Haakstad is not sure how long his 'break' in Grande Prairie will last, but regardless of where new projects may take him he values the new ties to the film community in Grande Prairie.
"When I first came up it wasn't to stay; I just needed a break, but I am enjoying it, being able to participate and hopefully help grow the community too. There is a sense of community I have felt. They have a really strong group, and it's nice to see that collective support."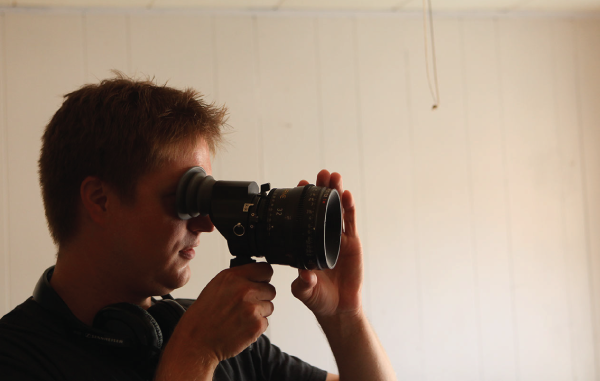 The Reel Shorts Film Festival celebrates short films and the filmmakers who make them by screening gems of storytelling brilliance from around the world, across Canada, and here in the Peace Region. The Festival began in 2007 and the 2014 festival—running May 7 through 11—is its eighth year. imageDESIGN loves our Grande Prairie art community and we're happy to promote this amazing event!