Lisa "Longball" Vlooswyk
By Jody Farrell Photography by Legendary Photoworks
Memo to Golfers: Don't Assume All Women Can't Drive
Celebrity golfer Lisa "Longball" Vlooswyk describes the usual reaction when she steps into a twosome with a male who's unaware she ranks the world's fourth in women's longest drive and has won seven Canadian long drive championships.
"They see me, and do this," Vlooswyk says, throwing her head straight back with an open mouth, in what is clearly an indignant, "Oh man… I got paired with a chick" reaction.
In one such instance the male was to be her partner on the famous US Open venue, Pebble Beach, California. She sympathized somewhat with the stranger, knowing that like her, this was probably his first and only chance to play the coveted and pricey course, and he'd been counting on a good match.
The Calgary resident and former school teacher met with further incredulous looks as she stepped up to the most distant tee and not the ladies' tee, where she was expected to be since it's generally assumed her handicap is greater than any man's. After delicately rejecting the starter's insistence that she move forward, Vlooswyk took her swing, and "ripped it down the pike" leaving more than a few mouths open in disbelief. Her re-enactment of a victorious tilting back of her own head, smiling broadly at those behind her, is hilarious.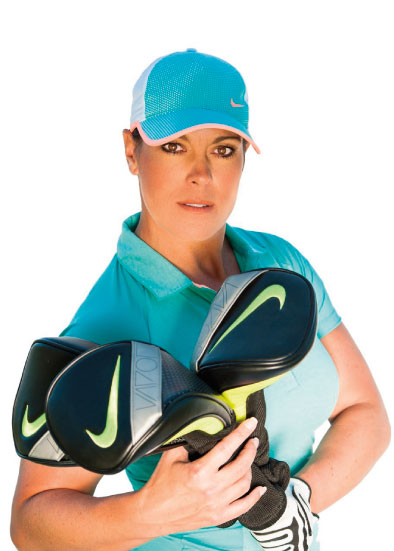 Along with more than 15 other celebrities, Vlooswyk will host the inaugural Lisa Longball Celebrity Classic at the Bear Creek Golf Club on July 15 and 16, 2015. The event will also feature former NHL All-Star and Stanley Cup winner Theo Fleury; Olympic synchronized swimming gold medalist Michelle Cameron Coulter, as well as more than a dozen other football, hockey, and olympic athletes.
Ranson Lasell, operating partner of Bear Creek Golf Club, says Vlooswyk and he met at a tournament in Comox, BC, nine years ago.
"Afterward, we sat in a pub and chatted about golf. Since then, we've had her up here for a few golf tournaments, but this is the first one that is named for her," Lasell says.
The tournament proceeds will benefit the Grande Prairie and area's Seniors Outreach, the region's Suicide Prevention Resource Centre for youth and Special Olympics Alberta, which, as an athlete, Vlooswyk says "is a program close to my heart."
Lasell notes that Vlooswyk is responsible for getting the majority of the other celebrity athletes to commit. "She used a bunch of her contacts from having played tournaments with a bunch of athletes to get them up here. She is just full of energy."
The two-day event begins Wednesday afternoon with a wine reception during which golfers can meet and mingle with the celebrity players. A sit down dinner and live auction will follow, as will a 'draw party' where golf teams are randomly selected to play with a celebrity the next day. Thursday, July 16, will see each team play 9 holes with that celebrity, and will include breakfast, lunch, steak dinner, and a NIKE swag bag for each player.
To register or find out more, visit www.golfbearcreekgc.com, or call 780-538-3393.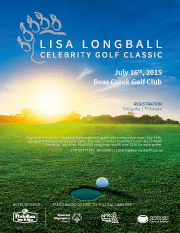 Photographer: Legendary Photoworks
Legendary Photoworks is a location-based photography studio in Calgary, Alberta. 'Legends' are people or stories that are larger than life. Legendary Photoworks freezes your once in a lifetime moment in time, and tell your story—forever. www.legendaryphotoworks.com