Business Advice from a 7 Year Old
By Holly Sorgen Photography by Bee's Photography
When you talk to Sammi Gene, age 7 (even though she claims she's 8 1/2) you can't help but be struck by the amazing maturity she shows in how she sees the world. When asked why she decided that her first product would be Wish Rocks, Sammi Gene, with a look of pure wisdom, says to me, "A lot of people have bad luck. They just have to hold my wish rock and it eventually gives them better luck; that's what I do." After an hour-long conversation with this amazing little lady, my faith in humanity is restored and I am confident Sammi Gene's generation has this world well in hand.
A grade 2 student at Maude Clifford School, Sammi Gene is the typical growing girl, active in soccer, Ukrainian Dancing and aspiring to return to gymnastics, "hopefully this week…" However, what makes her unique is that Sammi Gene owns and operates a full time business, Gifts by Sammi Gene. Maybe you have seen her around the region, showcasing and selling her wish rocks, custom purses, and other products at local business trade shows, Chamber of Commerce mixers (yes she's been a member since last year), GP Stompede, or taking her product mobile by packing her carry cases to her customers at various businesses like Windsor Ford or Hythe Tags. So why a business? Well I think she sums it up best when she, quite honestly and without reservation, said to me, "to get more money to buy the things I want… Like a phone." And looks at her mom, a slight smile on her face… This is a goal-oriented girl I am talking with. And she has some amazing supporters to help her make her business a success.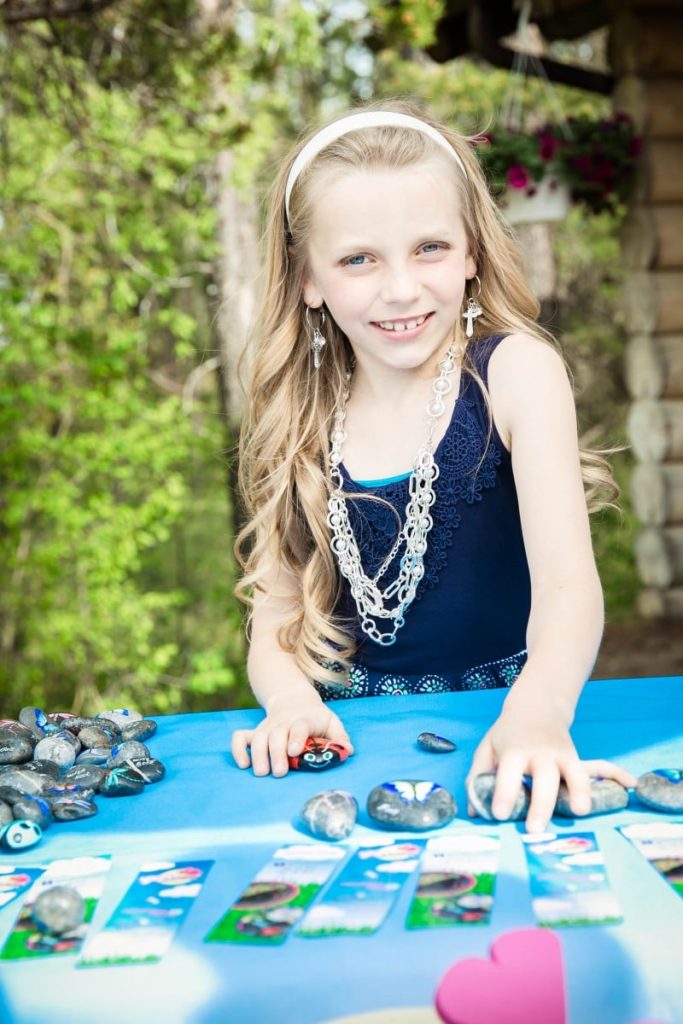 Last April, Sammi Gene started work on her business, enlisting the help of Bates, her official business partner and who she calls her "biggest helper." Bates helped Sammi Gene find her supplier, Ashley Scott, a Russian-born artist who now lives in Canada. Ashley paints rocks of all sizes and also designs and produces custom purses for Sammi Gene's product line. Not only did he connect her with a supplier, Bates helps get Sammi's product to and from shows, mans the booth when she's doing sales visits and helps her with the all important "money counting." Indeed, Bates is a trusted mentor for this budding entrepreneur.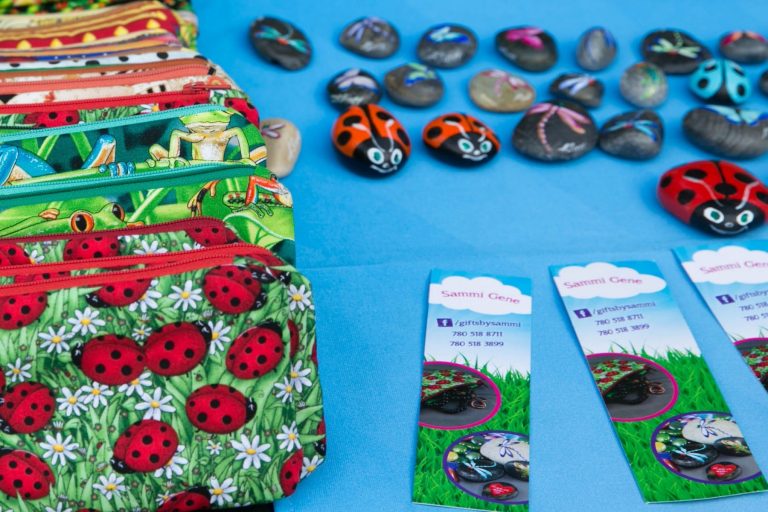 So after months of planning her business, and, by the way, Sammi says "practicing your business" is the only way to be successful, Sammi launched a Facebook page, purchased a Chamber membership and started selling her wares everywhere she could – formally getting her business off the ground in October 2015.
She is an itinerant marketer, Miss Sammi Gene, always seeing an opportunity to sell or promote her business. This year, Sammi Gene became a sponsor of Karsen Stott, a young, aspiring mini chuck wagon driver who launched his career at the GP Stompede. So when he competed, a Gifts by Sammi Gene tarp adorned his wagon as it raced around the track. She also owns a golf cart that she transports people, kids and pets around with at events like the recent art festival, using the free service as a springboard to talk business. Last Halloween, she placed logo labels on gum and candy bars and gave out hundreds to Halloweeners and potential customers.
Business is hard work; it's not easy. So wait until you are 7 at least before you get started….
When asked if she wants to grow her business, Sammi Gene's answer is a resounding "yes!" followed by "hmmm, wonder how I could do that?" And off she goes, thinking about what she could do, products she could add. She definitely understands customer demand, as she recently purchased a large number of rain ponchos that she now takes to events and sells for $2. Just imagine how many she sells when it rains unexpectedly. She sold 900 in 2 months! She's considering a new line of painted rocks perfect for gardens. And this summer she says she wants to focus more on lemonade, maybe design her own cups too, because it is supposed to be a hot Summer and "hot people like to drink lemonade!"
I asked Sammi Gene what the best thing about being in business is and after a little thought and an instant answer of "money", she tells me, "it's fun. I have so much fun selling my stuff, talking to people." And what is the hardest thing about being in business? It probably wouldn't surprise anyone to hear that Sammi Gene says "counting the money is the hardest." Even at 7 she knows bookkeeping is important.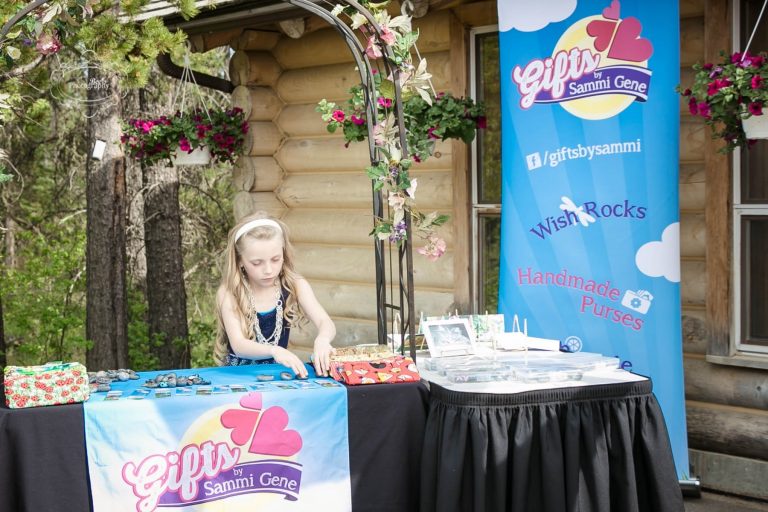 Business Advice from a 7 year old:
"Practice your business with a few customers at first. Find a good business partner to help you do stuff when you can't. You have to be organized and pay attention to time. Business is hard work; it's not easy. So wait until you are 7 at least before you get started…."
And wouldn't it be wonderful if every business operated with Sammi Gene's favourite customer service quote in mind? "Have a great day! Come back soon!" I think this is one business where customers will definitely come back soon!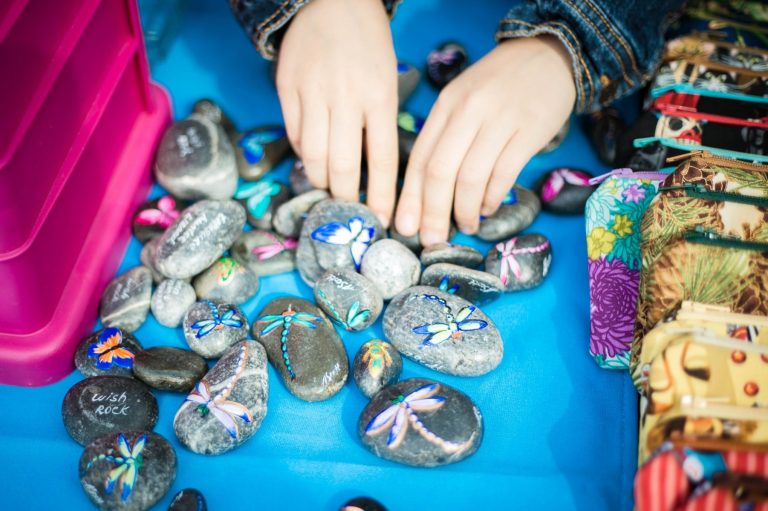 imageDESIGN has helped Sammi Gene design and print many of her marketing materials.  Look for her eye-catching banner stand, table runner, bookmarks, price tags, posters and stickers!
Photographer: Bee's Photography
Fran Rodgers is a self-taught photographer with a love for people and a passion for photography. Focus on families, kids, and couples, Fran enjoys capturing all those special moments in life. For more information, contact Fran at beesphotography2015@gmail.com or message her on Facebook!