Tanya Chomyc: Power Plus Hockey Skating
By Erika Sherk
Tanya Chomyc's Life of Sporting Success!
Tanya Morgan Chomyc has managed to do what most consider impossible: turn a childhood passion into an education, a career and even a business.
Today, Chomyc owns Power Plus Hockey Skating Inc., which provides training for hockey players to help them improve their skating skills, strength, and endurance.
Her story begins years ago on her family's farm near Wembley.
"My dad built us a really nice outdoor rink and my brother and I and all of our friends spent hours out there," Chomyc says.
The young Tanya eventually persuaded her parents to let her join a real team. She played minor hockey with the boys in Wembley until she hit Peewee level, then switched to the Grande Prairie system, which had girl's teams.
"I just loved hockey more all the time," she says. Her playing prowess ultimately won her a scholarship to the University of Calgary, where she played for the Dinos Women's Hockey team. She was captain for the last two years of her time there, leading her team to gold and silver at the national championship.
Throughout the years, Chomyc often attended Power Plus courses and camps. Once she was old enough, she joined the company's team as an instructor, teaching when she was home from University in the summertime.
"I realized I loved hockey so much and I loved teaching the kids. I always wanted to keep growing and learning more," she says.
When she returned to Grande Prairie with her kinesiology degree, Chomyc started working again at Power Plus. "I knew I wanted to come back and teach hockey and give back to the community."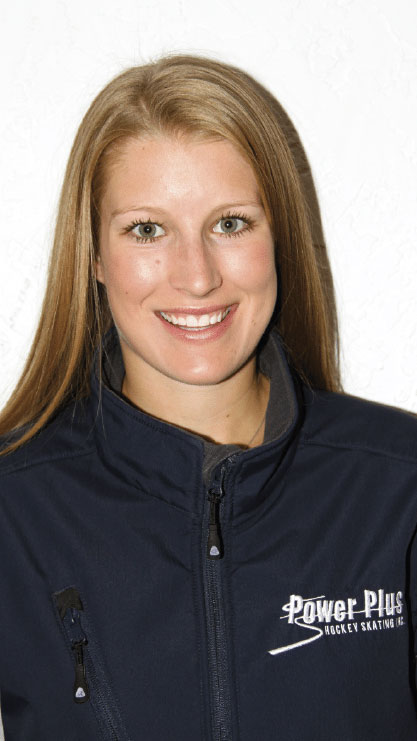 In early 2014, she purchased the company. "I have a strong belief there is a lot of talent in the Peace Region and I wanted to be a part of growing that talent," she says. "Most importantly, I love the game of hockey and wanted it to be a part of my career."
It's a busy life. Chomyc often works with over 1,000 players per year. In the summers, she has up to 10 employees to keep up with the demand.
"I just love going to the rink and seeing the kids want to learn and grow their hockey game and just ultimately helping them to gain confidence and succeed."
"The challenge is different every day," she says. "Each player comes to the rink with their unique abilities and it's our job to realize the player's potential and create a program for them."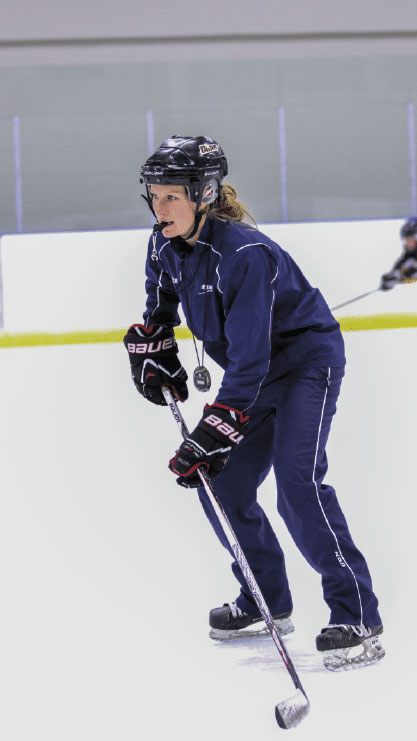 "Tanya's a great person, she's very motivational," says Carter Spenst, 14, who plays for the Bantam AAA Storm. He has taken several courses and camps with Power Plus and says his game has benefited. "My feet have gotten quicker and my endurance and agility have improved."
Despite her busy professional hockey life, Chomyc still plays recreationally, for the Grande Prairie Panthers.
"It's nice to still be involved and play for the love of it," she says.
The team recently won provincials and is headed to the Western Shield Senior Female Championships.
Power Plus Hockey Skating Inc. is owned by Tanya Chomyc, who offers a hockey program in Grande Prairie to players who want to improve their skating skills, technique, and performance. imageDESIGN enjoyed working with Tanya on various design/print projects to promote her business through marketing materials used to advertise within the community.