Tim Conrad's Unexpected Life
By Erika Sherk
Local business owner's story includes twists, turns, and Dan Akyroyd.
Tim Conrad has always loved the people aspect of his work – building community, making friends. It comes easy to the friendly Nova Scotia native, but still, he was surprised to get a call from Dan Aykroyd last month.
"He said, 'Hey! It's Dan Aykroyd calling! Are you around; can I come for a visit?'" says Conrad, laughing at the memory. "He came over and hung out with my family." Conrad had met Aykroyd while volunteering for fundraisers benefiting the Philip J. Currie Dinosaur Museum, a facility championed by Aykroyd's wife.
It was another unexpected moment in a life full of unanticipated twists and turns.
Conrad grew up in Bridgewater, Nova Scotia, biking, camping, and being a kid. However, he was a kid with a career. He started announcing basketball games as a 14-year-old. This expanded into other sports and functions and soon he was a teenage MC for an endless schedule of events. It didn't come easy for him. "The crowds scared me to death then," he says. "For me, it was facing a fear and not letting it get the best of me." It was worth it, he felt, because it was so interesting: a first glimpse of life in public relations.
An experienced public speaker, Conrad planned to study broadcasting at Ryerson University but then switched to a diploma program in electronics engineering at the RCC Institute of Technology. It seemed like a good idea with the media industry in flux.
However, as he continued his engineering education at Nova Scotia Community College, Conrad had an epiphany. "One day, I was working in a lab on a circuit board, sucking back solder fumes and I just thought, 'I don't want to do this anymore.'"
He switched to business administration and public relations, starting two businesses after graduating: a PR agency, and a restaurant/gift shop in Bras D'or, Cape Breton. The restaurant went out of business in three months. "My partner took the money and ran," Conrad says. It was a tough time for the new grad, but after putting his life back together he launched a new company, Ripple Connection Promotions. After six years, it had grown so much that he needed additional employees. He shut it down instead, starting a communications job with the Nova Scotia Construction Safety Association. "We were starting a family and it was too big of a risk," he says, of expanding his company.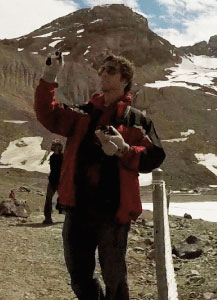 In 2010 he, his wife Ardella, and their two children relocated to Grande Prairie. Conrad had been offered a job at Aquatera, where he remained for five years. Early this year, he left the company and launched his own – Butterfly Effect Communications, a communications and marketing business that also sells sponsorships to non-profits.
"The goal of my business is to make the community stronger," he says. "It's to connect businesses and non-profits to their community." He's happy to be back running his own ship, he says. "I've always loved that."
It's a new chapter in his life – another twist in the journey. This one with visits from movie stars included!

imageDESIGN has been happy to assist Tim with many of his marketing projects with Butterfly Effect Communications.