Wade Works to Create Beauty & Inspiration
By Karen Bass
Trudy Wade radiates energy and enthusiasm – which are useful traits when so many of her days are spent climbing up and down ladders.
Wade Works Inc. is an interior design business with a difference, one that incorporates wall murals to transform rooms. Wade's aesthetic sense is gaining attention, and her work is showing up in businesses, schools and homes across Grande Prairie.
Wade has lived in almost every province. She moved to Grande Prairie several years ago desiring to connect with family (her mother was from Bezanson), but she stayed because of the community. "Grande Prairie people are innovative, driven and entrepreneurial," Wade says. "When someone wants something done, they dream it, and then they step out and do it."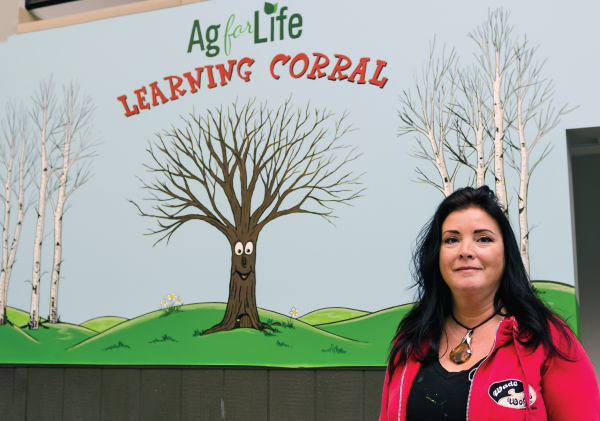 She brings this same energy to her own work. Whatever the client wants, she visualizes it, and then finds a way to create it. Wade strives to reflect the client's personality in the finished mural or room, so interviews are an important part of the planning stage.
Wade takes particular enjoyment in using her interior design background and her skills as a muralist to decorate children's rooms. She says, "Doing kids' rooms lets you re-enter childhood and the joy of discovery." This joy is part of why she prefers to work when the family is away, so the child doesn't see the work in progress, but simply walks into a re-done room that was designed specifically for that child. Consequently, Wade's summers are very busy.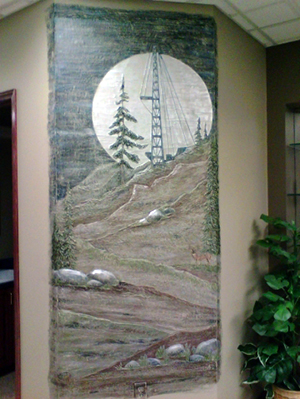 "I love to create stimulating environments." Wade also loves to keep moving. She often has a large mural project, plus up to three smaller paintings or other projects, on the go. She thrives on challenges and pushing herself to succeed.
Other than a few online courses, Wade is self-taught, or learned skills on the job. Her varied background (floral design, visual presentation, drapery, and other creative endeavors) combined with her strong visual sense to inspire her to fuse mural creation with interior design. This also led her to be willing to work in a variety of media, from traditional paints to Venetian plaster and drywall mud. Each project demands its own approach, and she isn't afraid to experiment.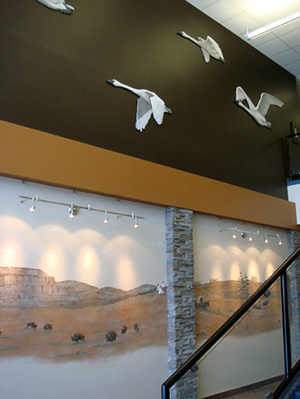 Wade believes diversity is the key to successful creative businesses, so she takes on a variety of projects. But she has a special love for murals. She enjoys the challenge of larger scale creations, and is drawn to their visual impact. She says, "You can walk into a large picture. Be inside it." This is especially true, she notes, of works that span a whole room and so give a 3-D effect.
She will also create what she calls "portable murals", often on 4×4 or 8×8 pieces of plywood, that are incorporated within interior design makeovers. Her flexibility is always centered around the client's needs.
Above all, Wade strives to create personal spaces and to inspire people. And in Grande Prairie, she finds a vibrancy and energy that inspires her. The results speak for themselves.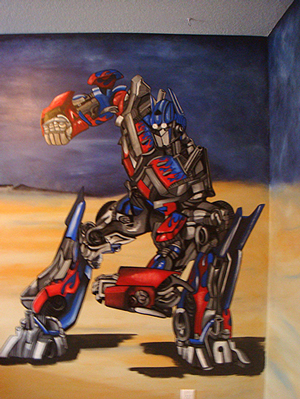 Trudy Wade of Wade Works Inc. is an artist who not only creates beautiful pieces of art on canvas but also on walls. Her work can be found across the city of Grande Prairie in businesses, schools, and homes. imageDESIGN has worked with Trudy Wade on several projects, including Aquatera's offices and the Aquatera Learning Zone located in Safety City.