Fine Arts Award Winner: Candace De Vuyst
By Jody Farrell
GPRC grad, Candace De Vuyst, chooses the arts over a medical degree.
Artist Candace De Vuyst's digital image adorns Grande Prairie Regional College's 2015 Fine Arts awards posters and programs.
When Chetwynd native, Candace De Vuyst, graduated from the University of Northern British Columbia with a Bachelor of Science, she figured a medical or dentistry degree would follow. Art had always been a passion, but given her good grades and well-rounded interests, the sciences were the safer bet in an uncertain economy.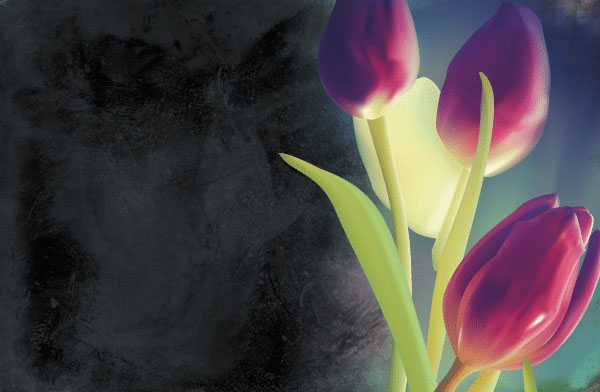 Before hunkering down to further studies though, Candace and her sister traveled to Australia, where she met a vast number of creative types, who, having done the sensible, steady 9 to 5 grind for years, were now earning living in a field that had previously been deemed a weekend hobby.
"So many people there told me of how they'd waited and worked, deciding later to do what they loved." De Vuyst recalls almost every working artist saying they had wished they'd been brave enough to do it sooner.
This revelation struck a carpé diem chord with her, and De Vuyst returned to Canada convinced there was no point in skirting the road less traveled; that keeping your biggest passion at bay until some later, safer date, seemed silly, if not downright unthinkable.
Her years-in-the-making art got her into Grande Prairie Regional College's two-year Visual Arts and Design diploma, which she completed in April.
Even before graduation though, De Vuyst's work had garnered recognition and praise. An image she'd created in a digital design class was selected for GPRC's 2015 year end Fine Arts Awards Show's posters and programs.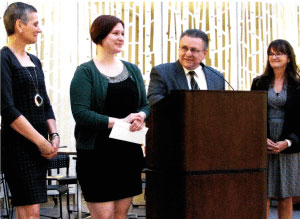 "I used a specific (mesh) tool on Illustrator to embellish a reference photo," she explains of the imageDESIGN-sponsored contest winner. "It involves placing a grid over a photograph and manipulating the colours and shading to make a more complex image."
Now that she found her passion lies in design, De Vuyst has applied to both Alberta College of Art and Design and University of Lethbridge to complete a degree in the field.  Both offer sought-after experience in the ever-evolving world of computers, entertainment, advertising, publications and the arts. De Vuyst, who recently filmed a performance dance piece, says she would be thrilled to be admitted into either program.
The years spent learning would be exciting enough, she figures, but to be employed in the field would be something De Vuyst considers her dream job.
The GPRC Fine Arts department hosted the 2015 Year End Celebration awards. The winner of the imageDESIGN award based on artwork submission, Candace De Vuyst, was given the opportunity to shadow one of our designers construct the cover page.