Grande Prairie Fire Department: No Typical Day
By Erika Sherk
At the GPFD, the firefighters have to be ready for anything, all the time.
"We started with horses dragging water and now we have cameras that can see through walls." As Lt. Tyler Mason muses on a century of firefighting, a regular day at the Pete Eager Fire Station is progressing. At least, as 'regular' as possible. The only guarantee here is that every day will be completely different.
For the crew—Mason, Lt. Chris Storeshaw, Firefighter Jeremy Fabian and Firefighter Chris Baker—a work day could include anything from cleaning trucks to entertaining four-year-old wannabe firefighters to, of course, battling aggressive flames busily consuming four houses at once.
"That's what I love about the job," says Storeshaw. "It's never the same thing. Every day is different."
It's not a life for the faint of heart, nor for the small of heart. The firefighters of the Grande Prairie Fire Department have to be ready for anything.
And 'anything' has a wide scope. The men—there are presently no female firefighters—are ready to tackle much more than just fires. "We're called the Fire Department and yet we do so many different things," says Storeshaw, reeling off a long list that includes, among various other tasks, medical calls, ice and water rescues, motor vehicle collisions, trench rescues and rope rescues.
It's an ever-changing field. Right now their station has a display showing uniforms and technology from Grande Prairie's firefighting past. To say firefighting has evolved over the years is putting it mildly. In 1915 the city's volunteer fire brigade literally wore street clothes to fires. Now, each firefighter's gear is worth tens of thousands of dollars.
"Our equipment is just light years ahead of where it was," says Mason, who has been with the GPFD 12 years. "The technology's never going to stop. The science has progressed so much."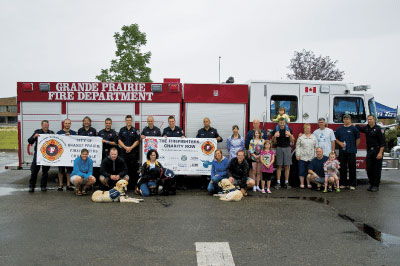 Far from just throwing water at fire, it now takes extensive training and experience to handle the equipment the GPFD has in its arsenal. "We're more educated than we've ever been," says Mason. "We have a very different way of handling fires than we used to. That's going to keep changing."
Compared to 100 years ago, "the technology has improved in leaps and bounds," says Captain Ben Sargeant. "But fires burn a lot hotter now and buildings lose their structural integrity really quickly. We need better gear and equipment to fight the fires we have now." A house used to burn for 20 minutes before collapsing. Now it's more like five to six minutes.
The understanding of the toll the firefighting life can take has also improved.
"You enter into worlds where most people should never have to go. It's definitely a part of our job that can be hard," says Fabian. "We see [fatalities] from four months old to 99 year-olds. Some are natural, some are drug-induced, some are from abuse. It's not easy to see."
Whether the firefighters are literally seeing someone die or just witnessing the look on someone's face as they watch their home go up in smoke, it can linger in a psyche. "A long time ago PTSD wasn't talked about," says Mason. "Now it's understood that stress and trauma have an effect. We're human."
It's been a major change in fire departments, he says. "We work hard to ensure we're all okay," he says.
It's a tough job. It's also highly sought-after. The last time the GPFD posted a position, there were over 100 applicants. And a person has to have extensive fire training just to apply. "It's a rewarding job," says Mason. "It's great paying, you have job security, you're helping people. And the camaraderie you have with the crew—it's a feeling you don't get anywhere else."
Storeshaw's been a firefighter since 2007. "I worked at a tire factory and hated it," he says. "I thought, 'there's got to be more to life than this." He was on his factory's emergency response team and realized he was only happy at work when the team was called for firefighting or first aid. "I thought, hm, maybe there's more to this."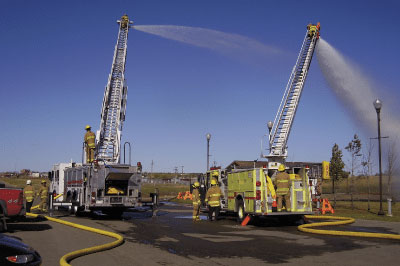 When he was 31 he quit his job, sold everything and went to fire school. Upon graduation, he was hired in Grande Prairie. "For me, having this job is a dream come true," Storeshaw says. "I am always happy to go to work."
Grande Prairie has 70 full-time firefighters and three fire stations. Each station has a specialty—this one is swift water and ice water rescue—but the firefighters move between them. The GPFD has three new fire engines. "They are all identical," says Storeshaw, pointing out the various high-tech features of the truck in Station #1. "Fire gets four times bigger every second so there's no time for messing around and figuring things out. We're all 100% comfortable with them."
Beyond the engines, the GPFD is stacked with shiny, obsessively-maintained equipment. Their ladder truck, with its 100 foot extension ladder, looms over everything. "It's the pride of our fleet," says Mason. While most people think of fire engines first, the station also holds a bush truck, command station, zodiac for ice and water rescues and the 'tender,' a.k.a tank truck. What apparatus the firefighters take depends on the call. Sometimes it's a combination of several.
"We always assume the worst," says Storeshaw, of what equipment they bring. "Then with a bit of luck, it won't be that bad."
When they get a call, firefighters are dispatched within 30 seconds. On the way they make their plan. It could be anything from a four-storey apartment fire, a medical call or someone who's fallen through the Bear Creek ice. "We always have to think on our feet. Your brain is always going. You don't want to make a bad decision because people can get killed if you make a bad decision," says Storeshaw.
Pressure, quick decisions, fun and camaraderie—just a few elements that make up a typically untypical day for the firefighters at the GPFD. It's not all easy but one thing is guaranteed: boredom is unlikely here.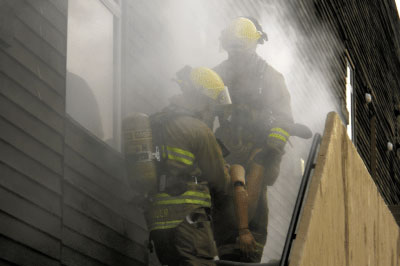 The Grande Prairie Fire Department celebrates its 100th year anniversary in 2015. To commemorate this milestone, a book was created to showcase the history of the GPFD from 100 years ago to the present day. Collaborating with the GPFD, writer Daryl White, and local photographers, imageDESIGN was proud to be selected to design this historic book.