Sport Council Launches in GP
By Adrian Bauer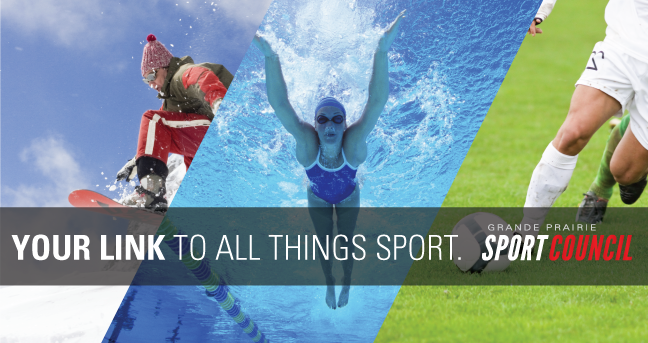 The Grande Prairie Sport Council held an event June 10, 2014 to officially launch the new non-profit organization and its website. The Sport Council's Executive Director, Karna Germsheid, and chair of the volunteer board, Leigh Goldie were interviewed to learn more about how the Council hopes to assist community members and sports clubs of all variety.
The spark for the Sport Council began in January 2012 with the sport and business committee getting together to work on terms of reference and by-laws. By June 2013 the Council had conducted their first meeting, coincidentally right at the end of the NHL playoffs.
The GP Sport Council was founded by people with a strong passion for sports. Goldie believes that sport and the value of sport contributes to people's lives and the whole community. Initially the idea was to increase sport tourism, but it grew beyond that scope once everything got moving. One of the Sport Council's plans is to focus on regional facilities and draw competitions to these facilities. They felt that too many opportunities for advancement were being lost for locals and they wanted to do something effective to help.
A Sports Directory is another important service the Council provides. The directory is available online through the Council's website and categorizes teams and organizations under each sport. The system helps bring isolated organizations together and breakdown communication issues that atrophied participation numbers. In fact, the biggest problem before the directory, they both mentioned, pertained to populating the teams themselves. Karna says that participation numbers have seen significant growth since the system went online, something that everyone's pleased to see. Teams can finally get the numbers they need and people can find the sports they want to be involved with. As a result the sum of the directory makes this region stand out.
The Council's overall mission is to provide more opportunities, economic growth, grow smaller sport groups, make it possible for players to transition into being professionals, and most importantly promote active living for a healthy community and society. With more people participating they can provide exactly what players need to stay here and develop careers in sport. Germsheid and Goldie say that they are excited for the Council to help develop local capacity so that people don't need to relocate or travel to train to realize their ambitions.
And for those who just want to do something fun and be active, the GP Sport Council provides a community calendar stocked full of daily events. They hope this kind of open communication helps people find activities, resources, and facilities, so they can have all kinds of options for physical activity to stay healthy and improve lives.
You can find out more and get involved by visiting the Grande Prairie Sport Council Website: gpsportcouncil.ca
The Grande Prairie Sport Council is a volunteer driven, non-profit organization representing and serving the Grande Prairie and Area sport community. Executive Director Karna approached imageDESIGN to create a bright, modern brand and website for the Council.